The actors
Actors committed to quality of life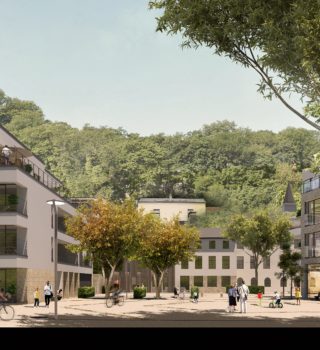 The developer
Immobel
150 years of passion
Immobel is the largest listed real estate developer in Belgium.
The Group, which dates back to 1863, designs high-quality urban environments that stand the test of time and have a positive impact on the way people live, work and play.
The company specialises in mixed-use properties with different functions. With a portfolio of more than 1,600,000 m² of project development in six countries (Belgium, Grand Duchy of Luxembourg, Poland, France, Spain and Germany), Immobel occupies a leading position in the European real estate landscape.
The architects
A/2618-
Double the experience
A/2618 is the result of a partnership of two architectural firms: the architectural and urban planning firm Atelier 618, based in Luxembourg City, and the architectural firm Archi2000, based in Brussels and which has a team of 40 architects.
The two partners have been practising their profession for 30 years in Luxembourg.
Since late 2019, these two firms have formed A/2618 for a long-term partnership with over 30 years of experience in various fields (schools, fitness centre, shopping centre, offices, housing, nursing home, hospital, major restorations, etc.).